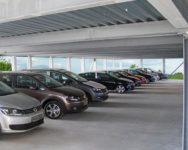 By Legal Bureau
Because builder/developer/promoter are entitle to deal with the FSI, not about the space which is not considered in FSI. When the flat purchaser comes in Sathe Khat or/ Agreement to Sell (which must have to register under MOFA/ Apartment Act) with the builder and pay the money to builder, builder can not alter/change project plan. There are clear liabilities defined in both (MOFA/Apartment Act) laws for Builders and purchaser. There is clear difference defined in flat and apartment in respective law.
In case of "Flat" under MOFA entire building/land in conveyed in the name of registered society and in case of apartment there is scope for undivided interest in land.
In Mofa section 22/23 clearly restricted builder/promoter/developer's rights to deal with open spaces,parking spaces,water tank,lift room,terrace,stair cases, lobbies/corridor,generator room etc… It's also observed and noted by honorable high court of Bombay that builder/developer/promoter absolutely have no rights or/ titles to sell or dispose off parking spaces. hence Builder's allotment before forming society will not be considered.
If after formation of society, Society has the right to allot parking than the DC rules and BMC regulation will also apply to society.
Once society is formed, sell deed / conveyance deed executed in favor of society, entire building and land will be owned by society. There will no individual's right in the land. Flat owners became member of society and bought shares of society. They can deal with their flat but not with any part of building and land.
Even when society is not formed or registered when a flat owner want to sell his flat he has to approach the builder for NOC.
Once builder got the completion certificate and occupancy certificate from respective authority, he is suppose to give possession of flat to purchaser if purchaser have paid the money as decided in agreement to sell. As per the MOFA and Model Agreement builder must have to form housing society as soon as minimum number of flat owners took possession to form society. Once society is formed builders must transfer all his titles/rights to society, if there is any non utilize FSI that also have to transfer to society.
Forming society is not the only sufficient but builder have to execute conveyance deed.
Before forming society builder is acting as a trustee and he is responsible for many things such as completion certificate,conveyance etc… hence flat purchaser have to take builder's NOC if he wants to sell his flat.
Also in a major relief to thousands of flat owners, the Bombay High Court has ruled that builders or developers cannot sell open space in housing societies for parking. Disposing a petition filed by a housing society in Borivali against its developer, the HC has categorically made it clear that once the occupation certificate is issued by the relevant authorities and the society is registered, the building as well as the stilt parking spaces, open spaces and all common amenities become the property of the society. The builder/developer ceases to have any title on the same, the court stated.
Justice BH Marlapalle, in a decision delivered on April 25, has even rejected the builders claim that flat owners in this case had given an undertaking giving up their claim on the open space. The HC order is significant given the number of similar complaints various consumer bodies and courts receive regularly.
It has become a practice now where builders charge flat owners for space which otherwise should have come to them as their right, observed Mumbai Flat-Owners Association president Mahabaleshwar Morje, that has been fighting for flat-owners right.
In this case, the said builder at Borivali had locked open space within the stilt with collapsible gates and wanted to sell it to flat-owners in the building for parking. He had kept this open space under lock and key and prevented residents from using it. This was totally illegal, the HC stated.
Since the space was covered from three sides, the builder had argued that these are garages and as such he can sell them as separate premises. He had also argued that these garages do not form a part of the societys open space which should be made available to the society members.
The HC quoting Development Control Rules dismissed this claim and made it clear that the stilt area, even if it is enclosed, continues to be an open space and since the builder is not paying any separate property tax over it, his claim of it being a garage are not acceptable. It is not an additional premises / area that he is authorised to sell either to any flat purchaser or to any outsider. It is a part and parcel of the society building and it cannot be a separate premises available for sale, the court noted.
The HC also rejected the builders claim that society members have given an undertaking giving up all rights on any open space while purchasing flats. In a clear term, the Court noted that, It cannot be presumed that every flat purchaser was in the know of the clauses of the model agreement and its binding nature. The builders tend to encash on this ignorance and seek all sorts of undertakings which are contrary to the provisions DC rules.
The HC in a definitive term has clarified that any undertaking furnished by the flat purchasers cannot have a binding effect as it would be contrary to the guarantees available to the flat purchasers under the Act. The HC rightfully noted that (such undertakings) is an act which is forced upon by the developer and it is commonly known that if the flat purchaser refuses to furnish such an undertaking, he would be informed that the flat is not available for sale.
Besides this, builder has to allot parking space according to the size of the flat as per dc rule 36, for example for one 3bhk flat builder has to allot one parking space compulsory , for two 2bhk flat builder has to allot one parking space and for four 1bhk flat builder has to allot one parking space, but builder do not follow this norms and if builder has allotted parking space for consideration of money then it is totally illegal it means you have legally bribed the builder to get the parking space from the builder and if now society is depriving you the right to park the vehicle then society has right to do so.because builder cannot sell parking space open or stilt.
But If you refer the landmark judgment from Hon'ble Bombay High court in case of panchali hou. society v/s Nahalchand laloochand pvt. ltd
On which all this issue came in limelight. The hon'ble court had clearly stated that builder does not have any absolute right or title to sale or DISPOSE the parking spaces (open ,stilt) as it's not part of FSI and MOFA does not allow builder to sale or dispose these areas.
Dispose can be done by any how. Alloting parking to to person "A" is disposal for person "B". In the judgment, the hon'ble court have specifically clear that as soon as society formed the building and land becomes ownership of the society.
Builder does not have any right to sale or allot parking lots.
It is nothing like builder can allot car park to 2 bhk or 3 bhk as per dc rule.
It's clearly drafted that the parking lots sanctioned by Corporation and not by BUILDER to any project is depending upon the flat size.
The corporation gives some X number of parking lots and after words it's society's duty and right to allot parking to it's member as per their policy of parking.
Now, the question is does society have to approve or agree the parking allotment done by builder?
Ans: NO, it's totally depends on society to accept or reject the allotment. It's not binding on society to accept parking lots as they are.
In this regard, the MCS by law no 78 and 79 which recognize and approve parking to a flat purchase if it is sold or allotted by builder. Is under vanishing state. The State Govt. is already started amend this bye-law. Because this by-law itself is contravention to the provisions of MOFA. But all this is pending as the case is in SC, wait and lets hope for the best.
If SC keeps judgment of Bombay high court as final judgment and passes the order then we will see new tussle between car parking purchaser/allottee and other who don't have space to park their cars.