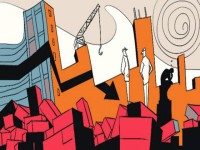 By Ar. Ajay S. Nahar (Nahar Group)
MSc Construction Project Management (U.K.)
Building your dream project can quickly turn into a nightmare of unmet schedules, cost over runs, bad workmanship and endless arguments. In my recent years of practice I have experienced the constant tiff and feud between the clients and the contractors and further delays are inevitable. So what exactly are the criteria for choosing the right contractor then becomes the most obvious question.
Above: View of one of premium projects designed by Ar.Ajay Nahar
THE PLANS
Paramount to the success of constructing your project, is working with good quality plans and specifications. Professionally drawn plans are mandatory. They,
help to avoid hidden costs during construction
provide a clear picture of what work is involved
avoid most unnecessary delays in the issuance of a building approval should form part of the contract with your choice of builder
THE CONTRACTOR
Finding the right contractor can be a difficult process. During your selection, consider the following tips:
gather information and proposals from at least 3 contractors
the contractor should anticipate that you will ask for references and has a list already prepared for the first meeting
receive names and telephone numbers of reputed builders and developers who have used the contractors services in the past and currently
follow-up by talking to the builders and developers and visiting their projects to view completed projects similar to the one you have planned
the contractor should spend time looking at your project and the construction site
THE PROPOSAL
Once you have selected at least 3 potential contractors, proposals must be submitted for your consideration. Each proposal should include:
A description of the work to be carried out based on your plans and specifications
An estimated cost, including or excluding all taxes
Similar material costs, as contractors in a given area usually buy from the same supplier
A section dealing with labour, supervision, overhead, holdback provisions and the profit margin of the contractor
When the work could commence and be completed
How extras, changes and deletions will be handled
Information about the contractors warranty for materials and workmanship
Who is responsible to obtain all approvals and to ensure inspections are carried out
Information regarding the contractors' risk insurance and standing with the Workers' Compensation Board
THE CONTRACT
Once you have chosen a contractor, a contract should be entered into for the protection of both parties. The following is a possible sequence that you could expect to occur:
the contractor will most likely provide a written contract for you to sign
the contract should contain similar information as the contractors' proposal
before signing a contract, it is advisable to consult a lawyer who has experience with construction contracts
UNDERLYING INQUIRIES
Does the contractor have a permanent business location and a good reputation?
How long has he or she been in business?
Is the contractor a member in good standing of a professional association?
CHECK REFERENCES. It's important that you talk with people who have hired the contractor to do similar jobs to yours and ask if they would hire the contractor again.
Have you seen the contractor's work both in progress and completed?
Does the contractor have proof of worker's compensation and general liability insurance? If not, you may be liable for any construction related accidents on your property or damage to property caused by an accident.
Price drives the selection. If you like the contractor and are confident with his or her work, but they came in with a bid which is beyond your price, ask what can be scaled down to meet your budget.
Are you able to communicate easily with the contractor? Misunderstandings during the course of the project can lead to cost overruns and delays.
Do you feel comfortable with the contractor? Remember, you will be in close contact with them until the entire project is complete.
Ask what type of warranty is offered. Most contractors offer some sort of warranty or agree to damages in writing.
Do not allow the contractor to start any work before a construction approval has been issued and is on the job site. If the contractor is willing to work without a approval he or she has something to hide.
Follow these useful tips and rest assured you have a smooth sailing for your dream project.